Who are the iconic nurses of the profession and what did they do? As part of our thank you series leading up to International Nurses Day (#IND2020) we're looking at some of the most important nurses throughout history, their contribution to modern nursing, and a couple of celebrities you probably didn't know were once nurses! Putting care at the heart of everything you do is essential as a nurse and although times are difficult with the outbreak of COVID-19 we want to show our appreciation of nurses and midwives throughout the world. Please know that we are here for you, whether it be advice around mental health, talking to our Head of Clinical Performance (retired RGN) Lorraine Gray, or just an ear to listen after a difficult day, you need only to ask.
​
Mary Seacole, 1805 – 1881:
Mary Seacole was a free black Jamaican woman who dedicated her life and savings to caring for British and Jamaican soldiers. She was initially rejected by the British soldiers from tending to them during the Crimean war because of her race. However, Mary answered Florence Nightingale's call for support from all able-bodied nurses and brought supplies, nursing kits and her own herbal knowledge to tend to the sick and injured. The impeccable level of care she provided meant she eventually won the trust and support of the British soldiers and she is now one of history's most celebrated nurses.
​
She was an independent nurse and funded all of her own travels and supplies, this left her with an incredible legacy but no capital with which to support herself. After the war, it became known that she had used her own money to fund all of her efforts in helping the British soldiers that a public campaign to raise money for her was launched and was supported by the British army as well as royalty. She played such a vital role in helping her "boys" that she earned the name "Mother Seacole".
​
Florence Nightingale, 1820 -1910:
A mainstay in the history of nursing, Florence Nightingale is often considered the first professional nurse. Born to a wealthy family, it was rather uncommon for her to have said she felt a calling to help the sick by being a nurse. But this is what she wanted. Eventually, she gained the permission from her father to pursue her dreams in this profession. She began her formal training at the Institute of St. Vincent de Paul, in Alexandria, Egypt.
​
In 1854 she took a team of 38 trained nurses and travelled to Turkey to treat the sick and wounded British soldiers of the Crimean war. She instated a new regime of hygiene and had the facilities washed from head to toe, introduced surgical caps and hand washing. Her compassionate care and commitment to her patients earned her the title: 'The Lady with the Lamp' as she would make her rounds of the facility even in the middle of the night.
​
What many don't know, however, is that Florence Nightingale was also an excellent statistician and the data she collected is now known as the 'Polar Area Diagram' and is still used to this day. In memory of Florence Nightingale International Nurses Day is celebrated around the world on her birthday, 12th May.
​
Walt Whitman, 1819 - 1892:
Walt Whitman, also known as one Americas', most influential poets was a man of many trades – most of which creative as a teacher and a writer. It is probably safe to say that Walt never intended to take up nursing. He was not born knowing he'd be a nurse in the future and he certainly didn't start off wanting to go to nursing school. But rather a humble poet. His journey into the profession is an interesting one.
​
During the American Civil War Walt travelled to Fredericksburg to see his brother who had been injured during the war. It was there that he saw the other injured soldiers and the horrific wounds inflicted on them. Seeing this prompted Walt's journey into care, with no formal training and nothing but a hard stomach and a willingness to help, he helped amputees regain their independence and even attended during surgeries. He went on to visit around 600 hospitals and see around 90,000 patients. What he saw and felt during that time is immortalised in his writings and journals which express the harrowing sights of pain and suffering he witnessed first-hand.
​
Mary Eliza Mahoney, 1845 – 1926:
Mary Eliza Mahoney has a spotlight in history as the first registered African American nurse in the US. She worked her way up to this position having worked as a cook, janitress and laundry woman for the New England Hospital for women and children. At the age of 33, her determination presented her with admittance to the New England Hospital graduate school for nursing where after 16 months she was one of three students to graduate due to its difficulty.
​
She was a pioneer for black women and her success forced the college to accept black students onto their professional nursing training courses. Mahoney co-founded the National Association of Coloured Graduate Nurses in 1908 to try and improve the status of black nurses.
​
Edith Cavell, 1865 – 1915:
Edith Cavell was a British nurse with the Red Cross during world war one. She established modern nursing training in Belgium but was executed for treason. She was a committed nurse who administered high-quality care to all soldiers who entered her hospital. When the Germans declared that any Allied soldier who did not give themselves up would be shot, Cavell began to help British soldiers escape to the neutral Netherlands. She admitted to helping over 200 Allied soldiers and was executed by firing squad. Her commitment was to life and administered care to all – no discrimination whatsoever.
​
​
Celebrities you didn't know were nurses:
Mary Todd Lincoln, 1818 – 1882:
Wife of America's first president, Abraham Lincoln, Mary volunteered as a nurse during the Civil War in the Union hospitals. At the end of the war, she used her position to help raise money for former slaves as well as freeing slaves and joining in the fight for their freedom
​
Audrey Hepburn, 1930 – 1963:
Arguably one of Hollywood's greatest starlets, Audrey Hepburn volunteered in a Dutch hospital during World War II as a means to contribute to the resistance to the Nazi's occupation of the Netherlands. She also couriered messages and performed silent dance recitals to raise money for the movement. In later life she also spent a lot of time working with UNICEF.
​
Tina Turner, 1939 - Present:
Before she was known as one of the greatest singers of all time, legendary vocalist Tina Turner had dreams of being a full-time nurse. In fact, she worked in healthcare as a nurse's aide at Barnes-Jewish Hospital.
​
Julie Walters, 1950 - Present:
Beloved British actress, Julie Walters, best known for her role as Ron Wesley's mother in Harry Potter, trained as a nurse at the Queen Elizabeth Hospital in Birmingham when she was 18. She was there for 18 months and worked on the casualty, coronary care and ophthalmic wards.
​
Final entry...
You! You're probably tired of reading or seeing the word COVID-19 or Corona virus, however we can't ignore this final entry. Nurses and midwives across the world have been truly inspirational, showing the care, compassion and professionalism in the face of an international pandemic. The stories we have heard from our nurses and those across the world show the best in humanity. From those working 12 hours a day in uncomfortable PPE, to two nurses in Australia who have suspended their wedding to help with the efforts, to nurses who have come out of retirement to work in remote triage facilities it has been amazing. As cheesy as it sounds, we truly believe that all nurses currently working during this pandemic are healthcare heroes. The picture below was drawn by a very talented 13 year old Nick, thanks Nick.
​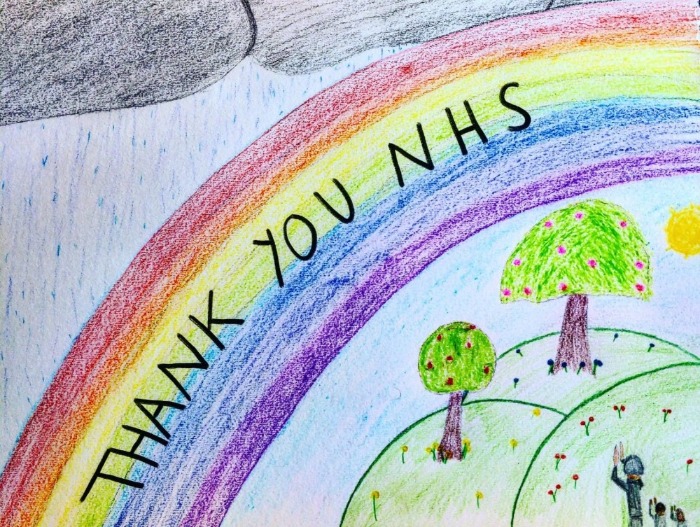 ​
​
Thank you on International Nurses Day
Here we find that throughout history, there have been nurses who have made significant impact – whether in the fashion industry, in war, or showbiz, nurses have shown us the better side of humanity and have been the best role models to look up to.
​
If you're looking for your next role we want to help! Whether working in primary care or acute nursing, our skilled recruitment consultants are currently working on several opportunities and may have the right role for you.