​While we may have grown used to hearing about the pandemic on the news, here at Medical Staffing we have not forgotten the daily hard work and outstanding patient care that is being administered on the frontline.
​
We know our healthcare professionals are continuing to work incredibly hard to help those suffering from Covid-19, and from any other illness day in day out. They have met the challenge of the pandemic head on and provided exceptional care to hundreds of thousands of patients. The commitment of healthcare professionals has been incredible while the pressure on their physical and mental health must have been enormous.
​
While many continue to applaud our healthcare workers across the nation, we wanted to show our personal gratitude to our clinicians. After some creative thinking on our part, we came up with a way to show just how much we appreciate their hard work.
​
Saying a big 'Thank you healthcare workers' from Medical Staffing!
We created a 'care package' and hand-delivered them to a random selection of our associated healthcare workers who used our 'Refer a friend' scheme! Masked and ready, our gift bags filled with goodies and treats, our team safely delivered them to our clinicians who were delighted to see us!
​
​
​We were so excited to deliver these gift bags to our amazing clinicians, and they were so happy to see us too that we received many positive messages from them for days afterwards!
​​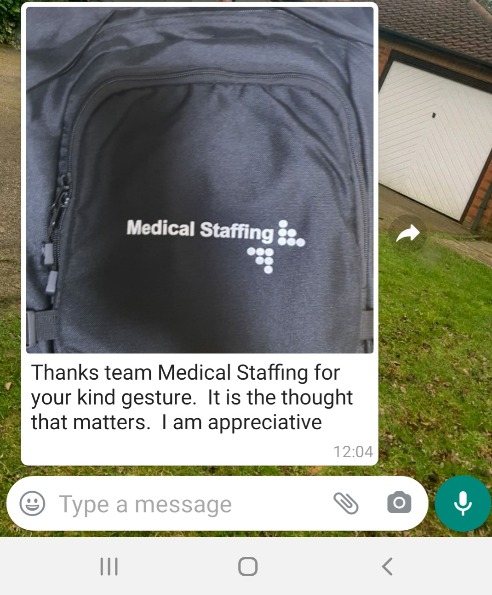 ​
​Refer a friend
We encourage all our clinicians to refer a friend and gain access to a supportive partner who will not only help them find the right roles for their career progression and goals but will also provide guidance and advice throughout their development.
​
We want to hear from people working in clinical roles like:
​
Nurses

GPs

Doctors

Allied Health Professionals

Urgent Care Practitioners

Emergency Care Practitioners
​
​All we need is their name, email and phone number. Our consultants will contact them and take them through the registration process. If your colleague approaches us directly please make sure they give your name as the referrer. We can't backdate referrals, so this is important to collect your reward.